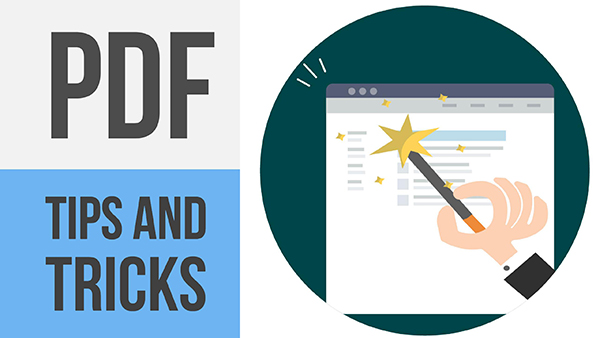 FrameMaker PDF Tips and Tricks
UPDATED July 26, 2021
This post describes older (pre-FrameMaker 2019) advice on using File>Print to produce PDF. I recommend using the Publish pod (including the shortcut, File>Save as PDF) for creating PDF in FrameMaker 2019 and later.
See Producing Pixel-Perfect PDF for a full overview of using the Publish pod, including videos and a link to the recording of my 1-hour Adobe webinar of the same name.
UPDATED Jan 20, 2018
I wrote this post in response to issues I encountered in getting PDF output from FrameMaker 12… While researching the problem, I found a number of potential solutions, so I decided to write this as a reference for the next time a setting goes awry!
NOTE: While I prefer to use the Save as PDF option, some of my projects hang up excessively while processing. See the end of the post for information on creating .ps files, and on eliminating font subsetting issues.
PDF Printer Driver
Make sure File > Print Setup is using the Adobe PDF printer driver. Other drivers, especially non-PostScript drivers will meet with mixed results. Select the Properties button to address font handling
RECOMMENDATION: Use SetPrint at sundorn.com to set your print driver to Adobe PDF automatically. This plugin only affects FrameMaker, not your other Windows applications.
These other settings are all within the PDF Setup dialog box. Get there from the File > Print Setup or the Format > Document >PDF Setup options
Font handling
Deselect the Rely on system fonts only; do not use document fonts option.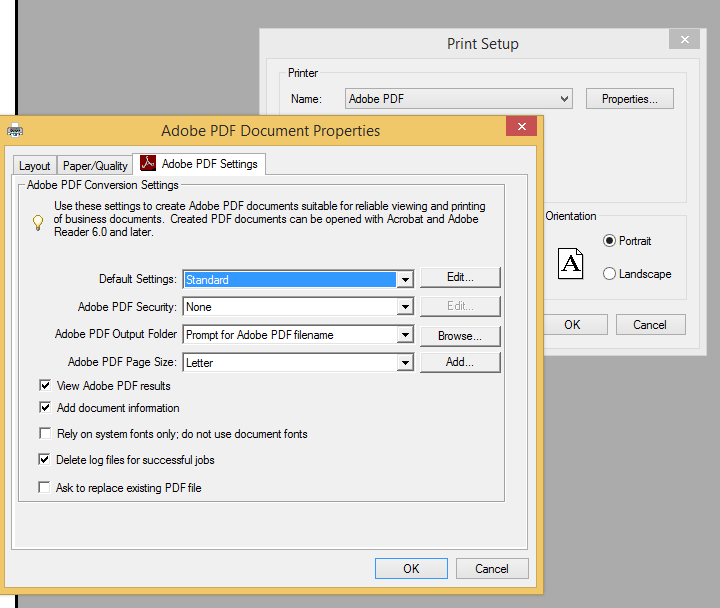 Color v. Black and White
I've not seen this problem (yet), but have heard that choosing B/W in the Paper/Quality tab can cause failures.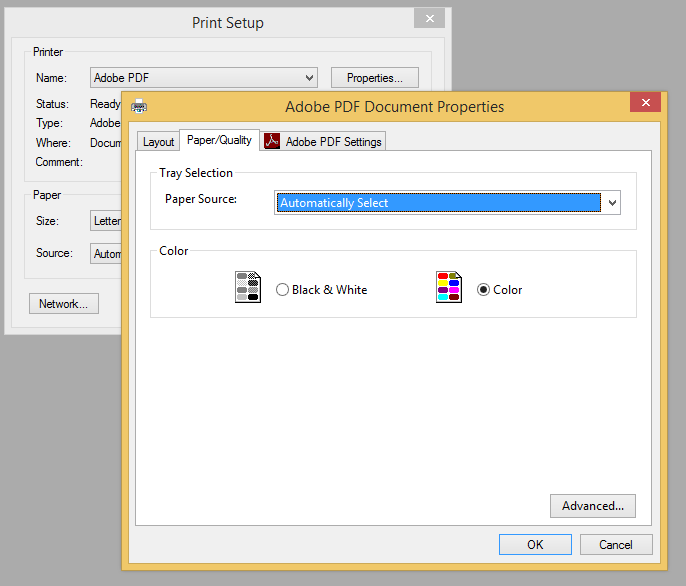 RGB v. CMYK
I just ran into this one recently… I had RGB selected (for an exclusively online/tablet PDF) and couldn't process until I'd selected CMYK.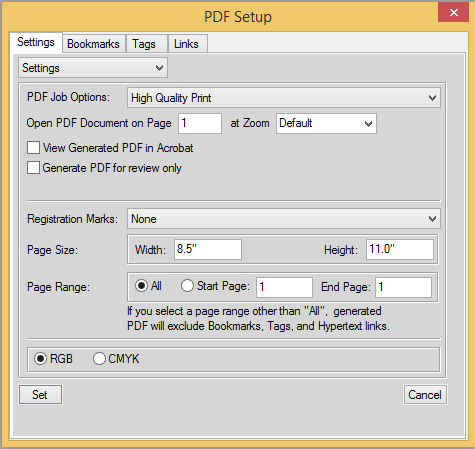 Generate Tagged PDF
While not related to producing the PDF, per se, tagged PDF is a "must" if you wish to comment the PDF and bring the comments successfully back into FrameMaker. The strikethrough, replace, and insert comments will be the most useful for streamlined editing purposes.
Font usage
I try to stick with Adobe OpenType fonts, or generic, widely available system fonts. If you have issues with fonts not loading properly, try embedding them in the PDF via the Distiller settings. That's beyond the scope of this post, so try contacting me directly if you have questions.
Improve processing speed
If your PDF conversion takes more than 5 minutes to see measurable progress, I suggest using the File > Print option to Print to File.
Printing to a PostScript (.ps) file, rather than using the Save as PDF option splits up your processing, returning FrameMaker access more rapidly, and (in my experience) shortening the actual PostScript process itself.
Filenames and Pathnames
I would check for problems in names and paths after following the other advice in this post, but in general, follow best practices for both file and path names (including graphic filenames and paths) in your FrameMaker projects.
Stick with alphanumeric characters and avoid spaces, dashes, commas, registered trademarks and the like. Avoid excessively long paths. (paths with more than perhaps 200 characters in the full path)
While you're at it, try to avoid these characters in cross-reference markers as well. They'll prevent EPUB validation and other things.
Settings for on-demand printers
Font usage
Oddly, my FrameMaker reference book required different handling by Ingram Spark than than the previous two versions of the book. For this 2017 Release version, I needed to process the PDF using the PDF/X-1a (2001) job settings, and also needed to adjust these settings to turn off font subsetting.
To turn off subsetting, adjust the Adobe PDF driver by choosing Setup in the Print dialog.
Then choose Properties
Then choose Fonts, where you can deselect the Subset embedded fonts… option.
Save your adjusted setting with an explicit name (I used PDFX1a 2001-no subset)
After this, you can just choose this job settings file whenever needed, in FrameMaker, or any other application that produces PDF via Distiller.
Generate Acrobat Data
For some reason, the Generate Acrobat Data prevents PDFx/1a compliance, so I turn it off when creating PDF for my on-demand print provider (IngramSpark). Deselecting this option (as shown in the Print Document screen) also removes PDF bookmarks from the PDF, so this means that the PDF I submit to the publisher has no bookmarks.
For general use, and for PDFs for sale, I enable the option so that bookmarks are available for users of the electronic (not print) version.
Images
Sometimes corrupt graphics files or files with their own processing issues (for instance, missing fonts) can prevent PDF processing. If you suspect that graphics files are an issue, try recursively processing 1/2 the doc to help locate the offending graphic. Once located, produce a corrected version of the graphic and replace in your Fm document.
*I've read reports of 24-bit PNG images causing issues, though I've not independently confirmed this.
Disk space
While a need for disk space might seem obvious, it's worth checking the free space on your disk, and regularly clearing temp directories to keep things in tip-top shape. Try navigating to %temp% in Windows Explorer to quickly remove these files.
Broken Cross-References
To fix broken hyperlinks in your PDF files, navigate to
Format > Document > Optimize PDF Size > Options and set it up like this:
Many thanks to Stefan Gentz for pointing out the purpose of this option!
Wrap up
I would very much like to know why the 3rd version of my book required different handling, but like my mom is fond of saying…
"Not my circus, not my monkey"
I was grateful to be led down the right path by Ingram Spark's processing messages, so after some noodling with both the PDF job options and the prepress tools in Acrobat DC, I found the right combination of settings. I haven't yet put my finger on the exact combination of things that Ingram Spark is looking for, but I can usually whittle it down in under an hour.
Join over 4,300 of your peers and get my latest content sent to you for free, along with some of my all-time favorites.