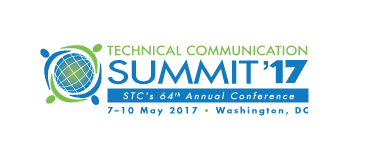 Will you be in Washington, D.C. for the 2017 STC Technical Communication Summit?
I'll be doing a number of events while I'm there, and would love to see you in person.
Here's an overview:
Adobe Tech Comm Tools Certificate Workshop 
Free event, no conference registration required, and free lunch for participants.
Sunday May 7, 2017 12 pm to 5 pm
New features in FrameMaker 2017
Short booth presentation
Monday 11:15 to 11:30 am
New Frameless HTML5 layouts for RoboHelp 2017
Short booth presentation
Tuesday May 9th, 11:15 to 11:30 am
Book signing event
During the conference I'll be signing dozens of copies (graciously provided by Adobe) of my FrameMaker reference book, updated for the 2017 release of FrameMaker.
Details to follow, or you can check in at the Adobe booth at the show for more information.
Join over 4,300 of your peers and get my latest content sent to you for free, along with some of my all-time favorites.