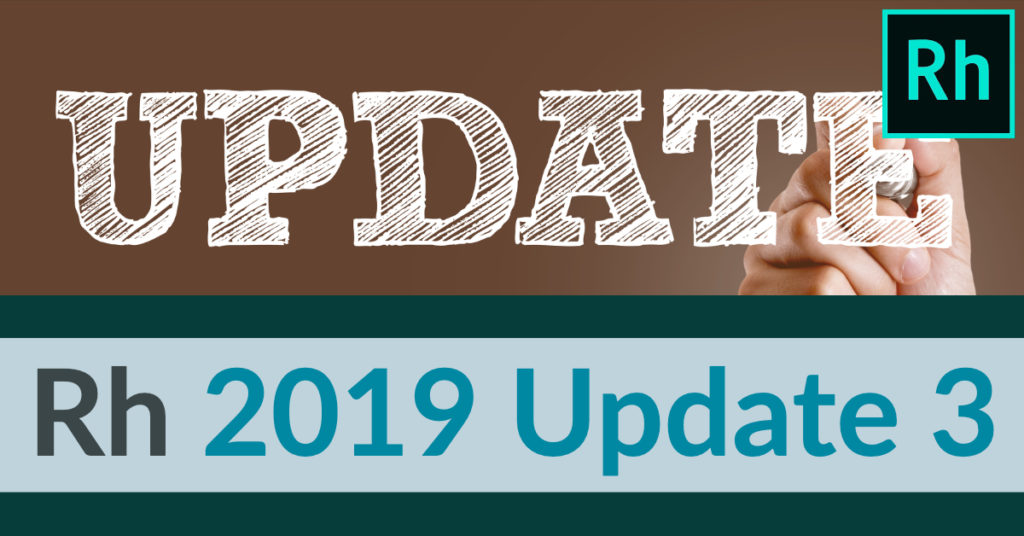 RoboHelp 2019 Update 3 now available
Adobe released RoboHelp 2019 Update 3 today. Use the Help > Updates menu item in RoboHelp 2019 to update, or visit https://www.adobe.com/support/robohelp/downloads.html to download the updater manually.
Following is a list of the feature enhancements and fixes.
Feature enhancements
Use user-defined variables in output title
You can now use variables in the title of any output type.
For more information, see Insert a variable.
Generate output in lowercase filenames
You can now generate WebHelp and Responsive HTML5 outputs in lowercase filenames.
For more information, see Configure a WebHelp output preset and Configure a Responsive HTML5 output preset.
Use new keyboard shortcuts
You can now toggle between Author, Source, and Preview modes using Ctrl + e, Ctrl + r, and Ctrl + w keys. You can also switch tabs in Author and Output views using Ctrl + PgUp and Ctrl + PgDn keys.
Use an enhanced style sheet/CSS editor
The editor now provides an easy way to remove list styles from content. New context menu options are added, pseudo classes are grouped to reduce clutter, hyperlink states such as 'hover' and 'visited' are added by default. Unordered list styling is enhanced to create multi-level lists easily. Table editor is enhanced to handle the editing of upgraded tables from RoboHelp Classic projects.
Use an enhanced index
You can now drag-and-drop index keywords in a topic or use bookmarks in the Index panel to create content-level index terms.
Create and publish image maps
Now you can resize and move hotspot areas while creating image maps. RoboHelp displays tool tips with links and areas are numbered. You can also control the layering of overlapped areas.
Work with an enhanced glossary
In expanded view of a glossary file, you can now access options for each term by right-clicking or clicking . You can also drag-and-drop a glossary term on selected text, create a glossary term out of highlighted text, and remove glossary by right-clicking a glossary hotspot.
Work with enhanced bookmarks
A bookmark created on selected text is inserted at the beginning of the selection. The bookmarks symbol is now displayed if there is selected text also. In the Bookmark dialog box, you can see the list of bookmarks with associated paragraph text.
Work with an enhanced image insertion capability
You can now use Ctrl+G to quickly insert an image. The Insert Image dialog box is improved–the Recent Files tab is moved below the Contents tab, and the last used paths and tabs are remembered.
JavaScript file editing
Now you can edit a JavaScript file in RoboHelp. The new source editor highlights syntax and shows errors.
Work with enhanced topic properties
In the Topic Properties dialog box/panel, RoboHelp now remembers master page usage information for subsequent use. The default options for Language, Status, and Master Pages are streamlined. All drop-down sections are closed by default and their previous state is remembered.
Use an enhanced link feature
You can now sync individual or all linked files from source location to project and conversely if files are modified in RoboHelp. You can see the source location and other information about each linked file through the new Properties option.
Work with an enhanced browse sequence
You can now access options through the new context menu. The browse sequences toolbar has new options–Move Up, Move Down, and Add Topic. You can also undo and redo changes.
Use an enhanced topic TOC
The styling of topic TOC is now enhanced. You can easily control the formatting, show/hide behavior, caption removal, and more.
New skin added to a sample project
A new skin named Coffee, which is based on the Indigo layout, is added to the Learn a Latte sample project.
Fixed Issues
If a number is specified in the Start From field during list editing, the list starts from one number higher than the specified number.
(Ref – 3206)
On linking an index keyword to a bookmark in a topic, the index keyword disappears from the list of index keywords.
(Ref – 3176).
If style sheets or inline styles use an Adobe-unapproved unit, it does not appear in the style sheet or the Properties panel.
(Ref – 3199)
Clear formatting does not work for selections.
(Ref – 3200)
Background image selections are not remembered on closing and reopening a style sheet.
(Ref – 3151)
On trying to exit from RoboHelp if there's an unsaved file and you click Cancel in the prompt, RoboHelp closes without saving the file.
(Ref – 3204)
Deletion of an empty folder requires restarting RoboHelp.
(Ref – 3205).
Topic TOC entries show truncated text.
(Ref – 3185, 3192)
Multiple topic TOC issues.
(Ref – 3115)
Cannot remove background color without manually editing the CSS code.
(Ref – 3108)
Clicking in a style sheet can accidentally select large chunks of the interface.
(Ref – 3109)
The image map dialog boxes do not show the current link destination for image map areas.
(Ref – 3111)
When a bookmark is created in a topic and inserted in another topic, it displays the filename not the topic title.
(Ref – 3174)
A few keyboard shortcuts are missing.
(Ref – 3147)
FrameMaker topic alias markers are not converted correctly after importing to RoboHelp.
(Ref – 619)
After upgrading a RoboHelp Classic project to RoboHelp 2019, some table styles are missing.
(Ref – 3154)
Favicon images do not appear in upgraded projects.
(Ref – 2613)
Multiscreen HTML5 SSL is not a part of upgraded projects; it should come as Responsive HTML5 with all settings preserved.
(Ref – 3183)
The option New in some project component panels does not automatically open files for editing.
(Ref – 3150)
Text selected in Author mode displays incorrectly in Source mode.
(Ref – 3164)
When a duplicate topic is created, its title does not change.
(Ref – 2732)
When generating a mobile app output if you change the default icon, after output generation, the new icon path should be saved.
(Ref – 1195)
Issues with the Splashscreen field <Application Details> while generating mobile app output.
(Ref – 1252)
A twisty image does not twist when a drop-down is opened with search highlight.
(Ref – 1229)
On clicking the Search icon at the left in Responsive HTML 5 output (Azure Blue and Charcoal Grey), the search box does not get automatic focus.
(Ref – 864)
TOC updates are not synced with the expanded TOC in the Table of Contents panel unless it is collapsed and expanded again.
(Ref – 3097)
Umlaut characters in TOC/Glossary do not load correctly in Microsoft HTML Help output.
(Ref – 3156)
In an Indigo skin, there are no spaces or separators between breadcrumb elements.
(Ref – 3094)
Search sidebar does not open when a search is run in Azure Blue layout.
(Ref – 1831)
Images embedded in snippets display absolute path, instead of relative path, in the Responsive HTML output and the snippet directory is not included in the output.
(Ref – 3197)
Fixed issues in RoboHelp Classic (2019 release)
Search results are not highlighted in single and merged projects, and in all browsers.
(Ref – 2703)
Multi-level list is corrupted.
(Ref – 3210, 3240)
Workaround: After installing Update 3, save the affected topics and reapply the multi-level list style.
On clicking the Search icon at the left in Responsive HTML 5 output (Azure Blue and Charcoal Grey), the search box does not get automatic focus.
(Ref – 864)
If side bar is collapsed, search sidebar does not open when a search is run from top bar in Azure Blue and Charcoal Grey layouts.
(Ref – 1831)
Subscribe to the newsletter and get access to my free weekly community office hours, as well as my latest content (and some of my all-time favorites) by email.