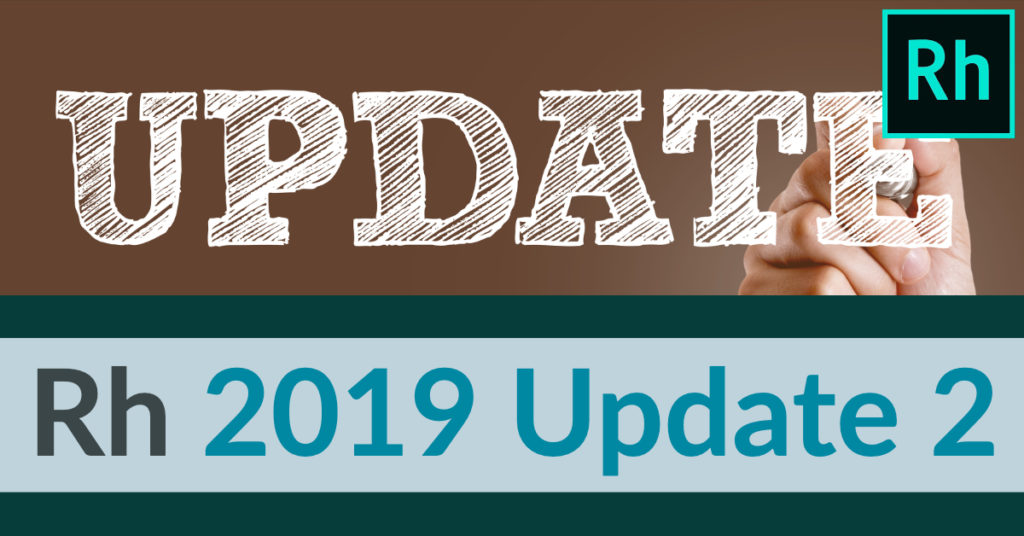 RoboHelp 2019 Update 2 now available
Adobe released RoboHelp 2019 Update 2 today. Use the Help > Updates menu item in RoboHelp 2019 to update, or visit https://www.adobe.com/support/robohelp/downloads.html to download the updater manually.
Following is a list of the feature enhancements and fixes.
Feature enhancements
Work with an enhanced TOC
Topic titles in the Table of Contents panel now automatically sync with changes in actual topic titles. You can now detect broken links in TOC through red x marks against topics. On auto-creating a TOC, a prompt lets you decide if you want to delete the content of the current TOC first.
For more information, see Create and manage a Table of Contents.
Team Foundation Server (TFS) support
You can use TFS version 2018 for version control from RoboHelp. You can check in, check out, view differences between versions, resolve merge conflicts, and sync files using TFS.
For more information, see Collaborate using Team Foundation Server.
Easily insert and work with multi-level lists
Multi-level lists from RoboHelp Classic projects are now seamlessly upgraded in both topics and style sheets in RoboHelp 2019 projects. You can now use templates in the numbered and bulleted formats to easily insert a multi-level list from the standard toolbar.
For more information, see Work with lists.
Use enhanced bookmarks
You can now toggle the display of bookmarks in the Contents panel and in topics. You can easily create hyperlinks in topics by dragging bookmarks from the Contents panel. You can also create TOC entries for bookmarks, and use bookmarks in context-sensitive help (CSH) map files.
Work with twisties
You can now use the inbuilt style sheet editor to add twisty images to Hyperlink Style and apply the style to expanding and drop-down texts.
For more information, see Add or edit twisty images.
Close text in expanding and drop-down hotspots
You can now have separate text for titles in expanded and collapsed states. You can also provide a more meaningful title for collapsing an expanding or drop-down text.
For more information, see Work with expanding text and Work with drop-down text.
Work with enhanced Author and Output views
Now, all open project components that are launched from the Author toolbar are visible and accessible only in Author view. If you want to switch to Output view, RoboHelp first prompts to save open components, and then launches Output view. The same behavior is applicable to components launched from the Output toolbar and when you switch from Output to Author view.
Use the Eyedropper tool to pick colors
You can now use the Eyedropper tool to pick colors of your choice from anywhere on the screen.
Work with image maps
You can now create, edit, and publish image maps. Image maps defined in RoboHelp Classic projects are also upgraded to the RoboHelp 2019 project structure.
Use an enhanced table editor
Selection of rows, columns, or cells in a table is now prominent and easily distinguishable. You can now select an entire row or a column in a single click.
Use context-sensitive help
While using context-sensitive help, you can now map topics or bookmarks to unique map IDs. You can also import map files, edit and create mappings with unassigned topics, and see the list of topics with bookmarks during mapping. Also, you can export mappings in a .h file, and publish mappings in WebHelp, Responsive HTML5, and Microsoft HTML Help output types.
For more information, see Work with context-sensitive help.
Work with enhanced style sheets
Updates to a style sheet now instantly reflect in open topics that use the particular style sheet.
Auto-numbering in style sheets
You can now apply auto-numbering to all paragraph and heading styles in your topic by editing the associated style sheets. Also, after you install the Update 2 release and open topics, old auto-numbering is automatically upgraded in style sheets and topics.
Use images as bullets in bulleted lists
Now, you can apply images, such as arrowheads, as bullets in bulleted lists.
Define and preselect dynamic content filters
You can now define and preselect a dynamic content filter for your WebHelp and Responsive HTML5 outputs. Content tagged with the preselected filter gets displayed in the output by default.

Work with an enhanced topic TOC
Now, the default style of a topic TOC is not a numbered list. You can also show and hide the display of a topic TOC.
Customize Windows settings for select output types
You can now customize and publish Windows settings for the Microsoft HTML Help output type. Custom settings from previous versions of RoboHelp are retained during upgradation to RoboHelp 2019.
Work with enhanced condition tags
You can now select multiple paragraphs in your topic and use drag-and-drop to apply condition tags. The color of the tag is visible in the Author view and preview.
Work with an enhanced Import Word document feature
While importing a Word document, you can now specify table style settings in the import Word dialog box.
Use a pass phrase (password) for Git SSH key
You can now use an SSH key with a pass phrase to connect to a Git repository.
For more information, see Collaborate using Git.
Work with an enhanced skin editor
You can now undo and redo changes in skin editor.
Use the new context menu to remove hyperlinks
You can now use the Remove Hyperlink context menu option to remove a hyperlink in Author view.
Work with enhanced context menus
The appearance of the context menu in a topic in Author view now matches other context menus and the menu options are reorganized.
Use keyboard shortcuts to insert components
You can now use keyboard shortcuts to insert variables, snippets, and fields that are displayed on clicking the Insert Variables/Snippet/Fields icon in the standard toolbar.
For more information, see Insert a variable and Insert a snippet.
Fixed Issues
Skin preview does not reflect changes in layout settings.
(Ref – 2863)
Expanding and drop-down texts are displayed in expanded form in Microsoft HTML Help output.
(Ref – 2839).
The Properties > Styles panel in an open topic does not reflect updates made to style sheets.
(Ref – 2767)
The TOC in Responsive HTML5 output does not sync when navigating using a browse sequence.
(Ref – 2716)
Search for favicon files is restricted to the assets > images folder instead of all system folders.
(Ref – 2673)
Images do not appear in skin editor preview if RoboHelp is installed and the project is saved in different drives in your computer.
(Ref – 2464)
Cannot customize the Indigo layout to only use the Topic page instead of the default home page.
(Ref – 2403)
On clicking a duplicate topic, the filename is displayed without an extension.
(Ref – 2301).
Empty paragraphs between content do not appear in topic preview and output.
(Ref – 2073)
All project component (such as conditional tags, variables, and topics) creation dialog boxes require clicking fields to be able to type; the Enter key does not work.
(Ref – 1846)
In Responsive HTML5 skin editor, the tablet/phone view menu button is incorrectly labeled as Close.
(Ref – 1833)
Dynamic content filters do not load if stand-alone child or parent projects are generated.
(Ref – 708)
Multi-level lists with dynamic content filters do not work as expected in the output.
(Ref – 693)
Multi-level lists inside drop-down text do not work.
(Ref – 688)
Numbered lists lose numbers inside DHTML drop-down boxes.
(Ref – 338)
Rename Hyperlink Popover verbiage to Popup.
(Ref – 2859)
Coding CSS Cursor Property does not work in Rh11 Preview Topic pane or CHM browser.
(Ref – 961)
Topic search is not working on files with an uppercase extension.
(Ref – 531)
Subscribe to the newsletter and get access to my free weekly community office hours, as well as my latest content (and some of my all-time favorites) by email.