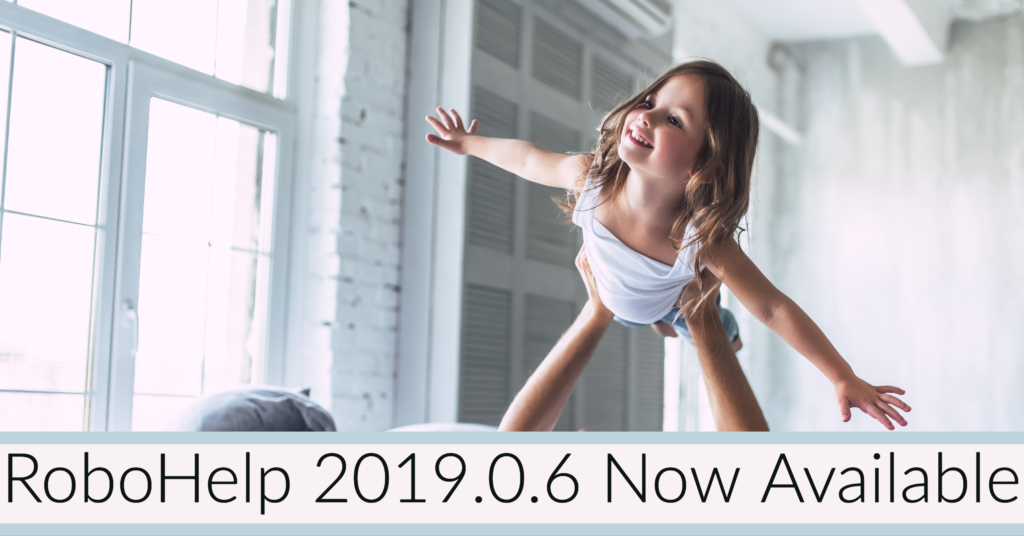 RoboHelp 2019.0.6 released
Adobe released an update for RoboHelp 2019 today.
Adobe released an update to RoboHelp 2019 today.
You can access this free update either by using the Help > Updates command in RoboHelp or by visiting https://www.adobe.com/support/robohelp/downloads.html
Here's what's been added and fixed:

Feature enhancements
List enhancements
In CSS editor, you can now define the spacing between a list number and text, and the indentation of list items. The alignment between double- and triple-digit list numbers and text in numbered lists has now improved.
In topics, you can now use the new list template for round numbers. In numbered lists and auto-numbers, you can restart numbering of any list item at any level.
PDF output enhancements
PDF output is now enhanced to include a Table Of Contents based on the project Table Of Contents. The Total Pages field is also added for use in master pages. PDFs also include CSS-based styling for TOC, Index, and Glossary pages. You can choose to exclude referenced topics from the PDF. A sample style sheet (pdf.css file) and a sample master page for PDF are added to new projects created in RoboHelp.
Skin enhancements
The Indigo skin now contains three custom buttons—Remove Highlight, Expand All, and Print. You can also add more custom buttons. When scrolling through a large topic, you can now use the back-to-top functionality in the Indigo skin. You can also customize the size of the logo and the font of the title in the Title bar in all skins.
A Coffee skin is now added to the skin gallery. The Charcoal Grey skin is revamped to RoboHelp 2019 structure. Except for the Coffee skin, all skins are now 508-compliant. Several other issues are fixed in all skins.
Version control enhancements
RoboHelp now includes an option to remove a project from version control. You can use the new lock-unlock feature in Team Foundation Server version control. Version control messaging is also improved, among other fixes.
For more information, see the version control Help—Team Foundation Server, Git, and SharePoint.
Fixes for upgraded projects
For projects upgraded from RoboHelp Classic, RoboHelp now includes several fixes. Lists and auto-numbers are correctly upgraded. Multimedia (mp3 and mp4) objects are converted as audio and video tags respectively, in conformance with HTML5 standards. All CSS files with the same name but in different folders are now retained after the upgrade.
Note:
If you require the above-mentioned fixes for your previously upgraded RoboHelp Classic projects, you can upgrade the projects using the Update 6 release.
Other fixes
In Microsoft HTML Help (CHM) and PDF, the list and table styles created in RoboHelp now appear correctly.
Fixed Issues
Clicking a bookmark from the Contents panel or a TOC does not open the topic and automatically scroll down to the bookmark.
(Ref – 4343)
If an apostrophe is included in a glossary term definition, in the output, the definition is truncated after apostrophe.
(Ref – 4287)
The condition tags report displays only content-level tags.
(Ref – 4255)
Upgrading a project wipes the existing CSS, making it blank.
(Ref – 4240)
Add restart auto-numbering for the paragraph element in topics.
(Ref – 4234)
Error in skin editor.
(Ref – 4205)
Out of multiple pages selected for inserting in a TOC, only the first page is inserted.
(Ref – 4181)
Failed to rename a file if only the case is modified in the Topic Properties dialog box.
(Ref – 4180)
HTML values used in user-defined variables are not resolved.
(Ref – 4109)
The default CHM window shows different buttons as compared to RoboHelp Classic.
(Ref – 4074)
[SharePoint] The check-in progress bar does not show which files are getting uploaded.
(Ref – 4061)
The width of auto size pop-up is not calculated based on the content of the pop up.
(Ref – 4043)
In Responsive HTML, if an image is larger or smaller than a specific size, image map links are incorrect or non-existent.
(Ref – 4040)
Multi-select is not allowed in the Add Related Topic dialog box.
(Ref – 4023)
Home button does not work in CHM output.
(Ref – 4016)
PDF shows different text size though the same CSS is applied to all topics.
(Ref – 4011)
Printed output ignores TOC folders.
(Ref – 4004)
PD chapter name variable of master page should get upgraded to title field in RH 2019.
(Ref – 3993)
Images are not resized if the HTML5 output window is resized.
(Ref – 3976)
Printed documentation – PDF – custom page width and height are shown as px but calculated as mm.
(Ref – 3965)
When importing multiple HTML topics, the progress bar shows continuous progress even after the topics are imported.
(Ref – 3935)
Image title is not updated in RoboHelp 2019 German and French versions.
(Ref – 3909)
[SharePoint_Publish] For second-level index entries, the link points to .htm and shows 404 error.
(Ref – 3894)
Even if a filename without extension is specified in a preset, PDF/CHM/EPUB files should be generated with extension.
(Ref – 3831)
Incorrect list upgrade.
(Ref – 3805)
Incorrect handling of logo image.
(Ref – 3798)
CXEP – RoboHelp 2019 Classic shows error while generating PDF from Word using Office 2019.
(Ref – 3554)
508 Compliance: When viewing the Indigo skin with the JAWS screen reader, JAWS does not detect the icons in the banner.
(Ref – 3383)
Bookmarks with broken paths are not shown as broken links in TOC.
(Ref – 3327)
Clicking the Search Bar in Indigo skin shows a distorted layout in the preview.
(Ref – 3155)
TOC appears flat in printed doc output in RoboHelp 2019.
(Ref – 2888)
Some index entries do not appear in compiled Responsive HTML 5 Help when index entries are filtered.
(Ref – 1857)
Skin editor: Need another label category for the tablet/phone view menu.
(Ref – 1833)
Mobile App output shows the default icon even if it was changed before generating the output.
(Ref – 1195)
Fixed issues in RoboHelp Classic (2019 release)
HTML5 layout: Header background color modification is not applied to direct linked page view.
(Ref – 4150)
Subscribe to the newsletter and get access to my free weekly community office hours, as well as my latest content (and some of my all-time favorites) by email.