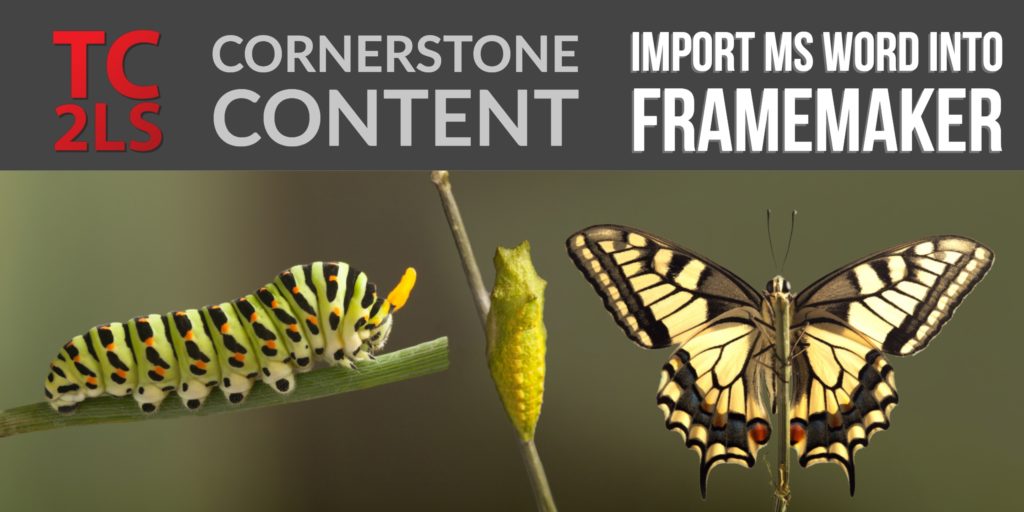 Managing FrameMaker styles when importing MS Word content
It's easier to import MS Word content into FrameMaker, starting with the 2015 release of FrameMaker.
MS Word (copy into document)
Beginning with FrameMaker 2015, when converting MS Word documents using the Copy into Document option, you have a robust style mapping wizard that is exponentially faster than other conversion methods. If you are using MS Word with the Import by Reference option, see "Copying, pasting, and converting text" on page 77.
This feature can save a tremendous amount of time, so be prepared to do some tweaking of the settings, especially if you are bringing in a significant amount of content.
To use the mapping functionality, do the following:
Create a new document (from your template, if you have one) and save the file to disk.
Select File > Import > File to display the Import dialog.
Important: Select the Copy into Document option at the bottom of the dialog. This must be done prior to confirming file choice by double-clicking on the file or choosing the Import button.
Select your MS Word file, click the Import button.
Choose MS Word in the Unknown File Type dialog and click Convert.
If you are importing a DOCX file, consider the warning message provided.
I have not needed to downsave my files to DOC, but you should evaluate your files for proper conversion in this (or any other) conversion process.
Now for the cool part:

Use the provided options to map your MS Word paragraph, character, and table styles to their FrameMaker equivalents.
Use the Import Word document inline styles and list format option to attempt to rein in any ad hoc formatting in your source documents.
Note the Keep Word formatting option. By clearing this check box, you will remove the Word formatting entirely and use only the FrameMaker style definition.
When you select a FrameMaker format in the center column, you'll remove the corresponding Word format from your converted content in FrameMaker. By saving a Preset file, you can reuse your choices in future conversions, further leveraging your initial conversion effort.
Going above and beyond
If you can't work around all the "gotchas" in your conversion docs, I'd recommend Rick Quatro's FindChangeFormatsBatch script, which gives you amazing control over conversions and format mapping in your legacy and conversion content. ($79 at http://frameautomation.com/findchangeformatsbatch/)
Did this help you out?
Join the free Tech Comm Tools community and I'll give you a heads-up whenever I've got more content like this that you might like.