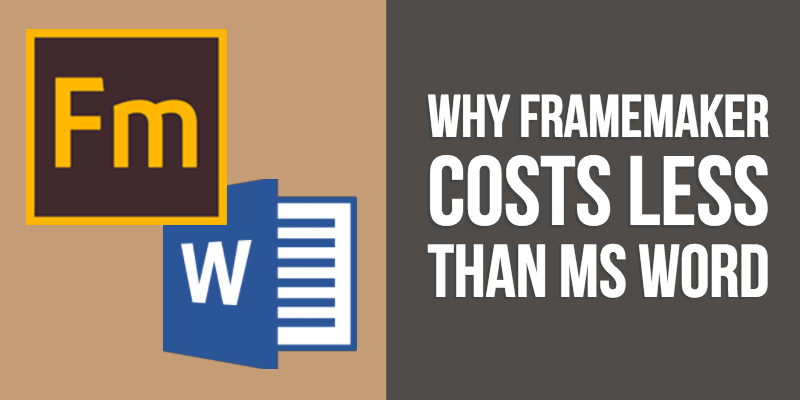 Why FrameMaker costs less than Word
Interested in the recorded webinar that accompanies this post?
I will add a link to the recording as soon as it's posted by Adobe
FrameMaker is better than Word for tech docs
Of course, you probably already know or suspect this, since the MS Word fan club can be a lonely place to hang out. You've heard the clichés…
"'Everyone' already has Word"
"We can't afford more software"
"Training is expensive"
"We don't have time to migrate to something else"
"Our clients need to make changes in Word"
But what "they" don't realize is that continuing to use MS Word might be the most expensive decision they can make. And it is expensive because the software and conversion aren't the expensive part of this equation … you are!
This means that we should be most concerned with making the most of our time as authors. Thus it only makes sense to use tools that maximize the most important asset in the process, the technical communicator.
Interested in how much more it costs an organization to maintain their documents in MS Word?
Perform the following calculation to come up with an annual additional cost as a result of keeping MS Word as the central component of your tech comm workflow.
H x .8F x 50 = A
Here's how to calculate the variables in the equation above:
H = Your hourly wage, or your annual salary/2000 hours per year
F = Hours of non-writing/editing activity spent weekly in MS Word
A = Annual Expense of Word relative to using FrameMaker and FrameMaker best practices
While this formula might seem like an oversimplification, most of my students through the years tell me that formatting can be up to (or even more than) half of the time they spend in Word. In contrast, my clients and I spend literally no time proofing document numbering, the accuracy of numbers and bullets, TOC or index content, accuracy of cross-references, page numbers, pagination, headers/footers, etc.
Of course, there is still a bit of formatting and template work to be done when using FrameMaker, and that's why I've applied a factor of .8 to the formatting time calculation. I think the factor should be more like .9, or a 90% reduction in formatting time, but 80% gives you some wiggle room in your estimate.
Now that you have a number to use in discussing when, and at what cost you can implement FrameMaker, let's explore some of the reasons that FrameMaker is more efficient and accurate. If you're already convinced that FrameMaker is a good choice for you, you'll find a few pleasant surprises at the end of the article that can reduce the upfront cost of FrameMaker acquisition and implementation.
FrameMaker has standard features that Word can't touch
 Here are some of the features that line up in FrameMaker's favor and provide a compelling reason to move away from Word.
Numbering
Full control over custom numbering strings is only part of the advantage…here are some automatic numbering situations that are easy to create, apply, and manage in FrameMaker, but that are deal breakers in MS Word:
Chapter 1: Title Text
The Chapter prefix (and the colon + space) are placed automatically and updated contextually.
Table 1-1: Title Text
Both the chapter number and the table number are displayed here. The second digit shows contextually where this table resides relative to other tables in the chapter.
Figure 1-1: Title Text
In this example, figures and titles in the same chapter are independently numbered. FrameMaker makes it easy to account for them independent of each other.
WARNING:
In this example, I'm using the autonumbering properties to apply a text prefix. Not numbering per se, but incredibly useful in tech comm.
Section 1.1.1
Military/aviation-style numbering is easy to manage and automatically update, thanks to FrameMaker's endlessly customizable building blocks and book numbering options.
FrameMaker also allows you to use different formatting for the autonumber portion of your paragraph. You can use this for changing the color, weight, or angle of the autonumber text. But with a little creativity you can design autonumbers that do some pretty amazing things, like this series of paragraph styles that I use in my reference and workbooks.
Master pages
Master pages give precision, consistency, and automation to FrameMaker documents. Master pages can provide or eliminate running headers and footers, provide changes in orientation, and even automatically format intentionally blank pages. Better still, with efficient use of paragraph pagination options, manual page breaks are all but eliminated.
Cross-referencing
Manually typing in references is not only tedious but inevitably leads to errors in your documents. FrameMaker provides an easy interface for creating, formatting, and managing your electronic cross-references. Better still, your efficient, accurate, highly informational electronic cross-references are automatically converted into working links in PDF, HTML5, and other digitally published content.
Tables
Who thought tables could be a major strength in an application? Ask any FrameMaker expert, and tables are sure to be near the top of their most relied-upon features. Titles, headings, table title and table continuation variables, and other features just flat-out work. Regardless of the size of the doc, and regardless of the length of the table.
Books
Book files are the thing that set FrameMaker head and shoulders above MS Word. By splitting up projects into independent files that don't need to constantly (as in Word) recalculate things like pagination, FrameMaker reduces processing overhead. You only open up files that you need. Because the files (think of chapters within a book) are all connected via the book file, updating of content can be done whenever you like but doesn't slow down your creation or editing of content.
Variables
FrameMaker helps you manage two types of variables:
System variables help you manage page, chapter, section, and other things. You can customize system variable behavior, but often they don't require any special editing from a user at all.
User variables allow you to store text strings and formatting in a way that you can rapidly insert and manage those strings from a variable definition. Think how much easier it might be to insert a formatted company or product title if it were already stored as a variable in a document.
HTML5 publishing
FrameMaker's engineering gets extra points from me for creating a dead-simple method for producing beautiful responsive output that adjusts to the users' screen width. Default output looks presentable, and small tweaks to settings and layout allow you to closely match corporate branding standards.
Dynamic filtering
Conditional text is a very cool way to manage more than one version of a document within the same file. As an example, think of the various configurations of a car model. Different models have different features but are more alike than they are different. Using conditional text you could easily manage the documentation for the entire car model with only one set of files, turning options on or off as needed.
For documents with conditional text, HTML5 and other output can show or hide the display of specific options from the same set of files; the user only needs to select from checkboxes or radio buttons as needed.
FrameMaker promotes a stricter style-based workflow
It's true that MS Word has styles available, but the reality is that even in the strictest Word environments you'll still find that things like bullets and lists are applied inline, creating style overrides that impact PDF, HTML5, localization, and other workflows. In contrast, nearly everything in FrameMaker promotes the application of saved styles. While that seems more difficult than "just clicking" the Bold button, or using Ctrl+B to apply the same formatting leads to greater control of the document, especially when style changes need to occur across large swaths of content.
A template-based workflow can slash editing and publishing time
If FrameMaker has a secret weapon, it's the template file. By essentially separating the formatting of content from the act of creating or editing it, you can more rapidly (and accurately) produce content. The resulting information can then be effectively managed by updating the formats stored in the individual files. Properly tagged files can also create more usable digital output, improving the cost of localization, accessibility, searchability (SEO), and improving the navigation of those docs as well.
PDF content reviews improve efficiency and create accountability
Rather than giving subject matter experts access to your source content, FrameMaker gives editors the ability to make trackable comments in a PDF (even on mobile if you like) and then allows you to import those comments into your FrameMaker files. You can review and approve comments one by one, or in bulk if you choose. Either way, you are able to account for who made the changes and maintain that record for the future.
Style usage leads to additional cost and time savings
Localization (translation), accessibility, and mobile publishing are all more efficient with FrameMaker than with MS Word.
"But FrameMaker is expensive…"
No, not really. Compared to the number you probably came up with at the top of this article, FrameMaker is probably pretty darned inexpensive!
And remember that part of the formula we used earlier (.8F x 50) is actually an estimate of the time you waste each year by sticking with Word.
That is time that you could use for lots of things, including activities with family and friends if you're currently in the 50+ hours per week category!
As far as the licensing costs go, you can license FrameMaker for as little as $29.99 per month. So as long as you can save at least an hour a month, FrameMaker actually pays for itself. And if you're worried about training costs, you're really going to like the next section!
BONUS: Resources to get you started in FrameMaker
I provide a free FrameMaker course with real training to get you started with FrameMaker.
Register for my free Intro to FrameMaker 2017 course here
The first part of the course helps you determine if FrameMaker is a good solution for you. It also helps you convince others in your organization that FrameMaker will not only reduce documentation expense, but that it also improves the accuracy, reuse, and usability of your content.
The second part of the course is hands-on training, including a link to the 30-day trial of FrameMaker to get you started. Need even more reason to sign up for legit free training?
Complete the free Intro to FrameMaker course and I'll send you a link to order my reference book, FrameMaker – Working with Content, at $15 off the cover price. And I'll even pay the tax and standard shipping. But hurry, because that offer is only good until the end of May, 2018.
FrameMaker v. Word: The Adobe Whitepaper
Fill out the form. I'll send you a download link for a 12-page Adobe white paper on the advantages of FrameMaker over MS Word. You'll also be added to my free FrameMaker email list.