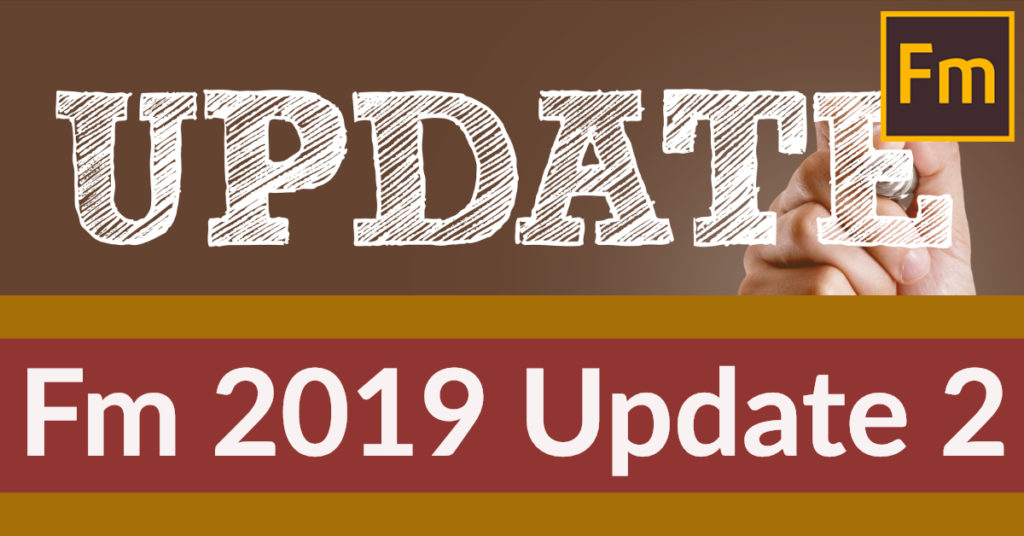 FrameMaker 2019 Update 2 now available
Adobe released the second updater for FrameMaker 2019 today.
As always, you can run the updater from the FrameMaker Help menu to download this free update.
Here's a list of the enhancements in Update 2, as well as a list of bugs that should now be fixed.
Check out the issues fixed in Update 1
NOTE: As of Jan 2, 2019, Update 2 is not yet available for manual download at https://supportdownloads.adobe.com/product.jsp?product=22&platform=Windows
Feature enhancements
Enhanced DITA template import workflow
You can now import DITA Templates directly from a folder. While publishing PDF output via Book with Components Route, you had to specify the output template file for every different type of template. Now, you can place all your template files in a single folder and specify the location of that folder to import all template files in a single click.
In case you want to use only a subset of templates, then place those template files in a folder. While importing, FrameMaker updates only those template files that are available in the folder and the other template files are not changed.
Improved DITA customization plugin
The updated DITA customization plugin now allows you to add constraints to the customized DITA shells. The user interface has also been updated and made more intuitive. With the enhanced DITA customization plugin, you will be able to quickly and easily customize DITA shells.
Fixed Issues
Latin characters are not published correctly in PDF output.
(Ref – 5629)
Having special characters like Horizontal Ellipses using Helvetica Type 1 fonts results in blank pages in published PDF.
(Ref – 5576)
Content created using Symbol font is not published correctly in PDF output.
(Ref – 5573)
Front matter and back matter topics get published as chapters in PDF output.
(Ref – 5526)
Information related to PDF/X is added to PDFs that are not generated using the PDF/X standards.
(Ref – 5485)
Information contained in <bookmeta> element is not available in PDF generated via Book With Components Route.
(Ref – 5476)
FrameMaker's 32-bit application fails to import comments from PDF.
(Ref – 5421)
In the PDF output, the MathML equations do no render correctly.
(Ref – 5120)
Outdated meta name generator value found in the Responsive HTML5 output.
(Ref – 5483)
While setting the marks and bleeds, FrameMaker does not automatically adjust the document's page size.
(Ref – 5470)
The distance between the crop marks is less and the crop marks are thicker.
(Ref – 5442)
In some cases, incorrect password error message is shown even when correct password is entered in Mobile App publish settings.
(Ref – 5135)
Version history of documents is not available for documents accessed from AEM Server.
(Ref – 5048)
In some cases, the cross-reference formats do not update even after updating the format.
(Ref – 3348)
The field labels in DITA Options tab (in PDF Publish Settings dialog) do not render correctly in French version.
(Ref – 5619)
The Optimize PDF Size menu option is no longer available.
(Ref – 5387)
In some cases, the Go To Next Page icon is not available.
(Ref – 5254)
The shortcut keys for Insert Before and Insert After commands do not work as expected.
(Ref – 5266)
The Scripting utility (ESTK) fails to launch in FrameMaker.
(Ref – 5127)
FrameMaker 2019 class data is not available in the Object Model Viewer.
(Ref – 5553)
Fixed crash issues in FrameMaker
The following crash and freeze issues reported by users or found in FrameMaker have been fixed:
Publishing a book with tags results in a crash.
(Ref – 5636)
In some cases, FrameMaker crashes on publishing PDF output for a document containing transparent images (.eps).
(Ref – 5614)
Random crashes were noticed on opening the Inset pod.
(Ref – 5595)
If a .sts file is saved at location containing special characters, FrameMaker crashes on editing the .sts file.
(Ref – 5486)
FrameMaker (2019 release) Update 1 – October 5, 2018
Feature enhancements
Enhanced PDF generation workflow
In Update 1, there are a number of enhancements made in the new PDF publishing engine. These enhancements include:
Unable to publish content using Courier font: In some cases, the new PDF publishing engine fails to render content that uses Courier font. This issue has now been fixed. You will now be able to use Courier font while authoring and the same is also published in the final PDF.
Missing RGB option for online PDF: A new option—Convert Text and Polygon Colors to RGB, has been added in the PDF (General) settings. Using this new option, you can generate PDF with the same colors that you use while authoring your documents. Colors defined and used in text and shapes, such as polygon, rectangle, or table boundaries are published as is in the final PDF. However, you must not select this option if you want to publish your PDF with marks and bleeds.
Updated the Save As PDF workflow
While saving a document in PDF, FrameMaker used the PDF publish settings defined in the Publish Settings dialog. The output location was also taken from the Publish pod. To change the output location for the final PDF, you were required to update the settings every time.
With the Update 1 release, you get the Save Document dialog whenever you choose to save a document as PDF from the File> Save As PDF menu. In the Save Document dialog, you can select a location to save the PDF file. This does not impact your PDF settings. The location specified in the settings file (in Publish pod) and the Save Document dialog are mutually exclusive.
This change in the workflow also resolved the issue of overwriting an existing PDF file. If you try to publish a PDF at the same location with the same filename, FrameMaker displays a warning message. Only if you confirm to overwrite the existing file, FrameMaker overwrites the older version of the file.
Upgraded OpenSSL integration
FrameMaker Update 1 now supports OpenSSL version 1.1.1. FrameMaker uses OpenSSL when establishing a connection with any HTTPS server using WebDAV.
Fixed Issues
In some cases, publishing PDF via book route fails to render content that uses Courier font.
(Ref – 3836, 5172)
For a set of files, text overlaps the text frame or table boundaries in the generated PDF output.
(Ref – 5248)
Entries in the Interface section in the Preferences dialog are not available in the supported locales.
(Ref – 5175)
Insert > Generate QR Code menu entry is not available in the supported locales.
(Ref – 5176)
Misplaced Help icons found in the Publish Settings (dialog) > Style Mapping > General Settings section.
(Ref – 5216)
FrameMaker fails to create a backup file even if Auto Save Every <x> Minutes option is enabled.
(Ref – 5241)
Generating a PDF output using the High Quality Print preset renders CMYK colors in EPS files in RGB color space.
(Ref – 5244)
FrameMaker's user interface does not scale properly in a multiple monitors setup.
(Ref – 5252)
When PDF output generation workflow fails via Save As PDF route, no error message is displayed.
(Ref – 5297)
Some images and content in FrameMaker Help are not available in the supported locales.
(Ref – 2107)
While generating a PDF, no warning message is displayed on overwriting an existing PDF.
(Ref – 4683)
In PDF output, there is no option to render text and shape colors in RGB.
(Ref – 5204)
While generating a PDF, the final output is stored in a subdirectory created within the specified Output Folder location.
(Ref – 4682)
Improved PDF/X compliant PDF generation workflow.
(Ref – 5247)
Fixed crash issues in FrameMakerThe following crash and freeze issues reported by users or found in FrameMaker have been fixed:
Saving a book file after generating a PDF results in a crash.
(Ref – 5177)
FrameMaker crashes on editing a file after generating a PDF with All Pinter's Marks option enabled.
(Ref – 5371)
Saving all files in a book after generating a PDF results in a crash.
(Ref – 5162)
FrameMaker's 64-bit application crashes on importing a .u3d file.
(Ref – 5240)
In some cases, FrameMaker crashes on closing files without saving.
(Ref – 5369)