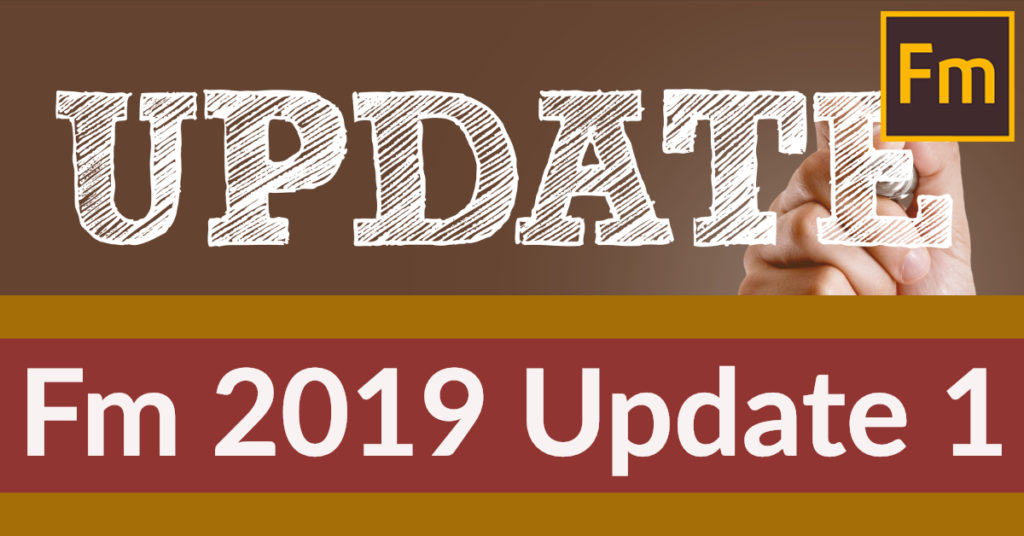 FrameMaker 2019 Update 1 now available
Adobe released the first updater for FrameMaker 2019 today.
As always, you can run the updater from the FrameMaker Help menu to download this free update.
NOTE: Update 1 is also available for manual download at https://supportdownloads.adobe.com/product.jsp?product=22&platform=Windows
Here's a list of the enhancements in Update 2, as well as a list of bugs that should now be fixed.
FrameMaker (2019 release) Update 1 – October 5, 2018
Enhanced PDF generation workflow
In Update 1, there are a number of enhancements made in the new PDF publishing engine. These enhancements include:
Unable to publish content using Courier font: In some cases, the new PDF publishing engine fails to render content that uses Courier font. This issue has now been fixed. You will now be able to use Courier font while authoring and the same is also published in the final PDF.
Missing RGB option for online PDF: A new option—Convert Text and Polygon Colors to RGB, has been added in the PDF (General) settings. Using this new option, you can generate PDF with the same colors that you use while authoring your documents. Colors defined and used in text and shapes, such as polygon, rectangle, or table boundaries are published as is in the final PDF. However, you must not select this option if you want to publish your PDF with marks and bleeds.
Updated the Save As PDF workflow
While saving a document in PDF, FrameMaker used the PDF publish settings defined in the Publish Settings dialog. The output location was also taken from the Publish pod. To change the output location for the final PDF, you were required to update the settings every time.
With the Update 1 release, you get the Save Document dialog whenever you choose to save a document as PDF from the File > Save As PDF menu. In the Save Documentdialog, you can select a location to save the PDF file. This does not impact your PDF settings. The location specified in the settings file (in Publish pod) and the Save Document dialog are mutually exclusive.
This change in the workflow also resolved the issue of overwriting an existing PDF file. If you try to publish a PDF at the same location with the same filename, FrameMaker displays a warning message. Only if you confirm to overwrite the existing file, FrameMaker overwrites the older version of the file.
Upgraded OpenSSL integration
FrameMaker Update 1 now supports OpenSSL version 1.1.1. FrameMaker uses OpenSSL when establishing a connection with any HTTPS server using WebDAV.
Fixed Issues
In some cases, publishing PDF via book route fails to render content that uses Courier font.
(Ref – 3836, 5172)
For a set of files, text overlaps the text frame or table boundaries in the generated PDF output.
(Ref – 5248)
Entries in the Interface section in the Preferences dialog are not available in the supported locales.
(Ref – 5175)
Insert > Generate QR Code menu entry is not available in the supported locales.
(Ref – 5176)
Misplaced Help icons found in the Publish Settings (dialog) > Style Mapping > General Settings section.
(Ref – 5216)
FrameMaker fails to create a backup file even if Auto Save Every <x> Minutesoption is enabled.
(Ref – 5241)
Generating a PDF output using the High Quality Print preset renders CMYK colors in EPS files in RGB color space.
(Ref – 5244)
FrameMaker's user interface does not scale properly in a multiple monitors setup.
(Ref – 5252)
When PDF output generation workflow fails via Save As PDF route, no error message is displayed.
(Ref – 5297)
Some images and content in FrameMaker Help are not available in the supported locales.
(Ref – 2107)
While generating a PDF, no warning message is displayed on overwriting an existing PDF.
(Ref – 4683)
In PDF output, there is no option to render text and shape colors in RGB.
(Ref – 5204)
While generating a PDF, the final output is stored in a subdirectory created within the specified Output Folder location.
(Ref – 4682)
Improved PDF/X compliant PDF generation workflow.
(Ref – 5247)
Fixed crash issues in FrameMakerThe following crash and freeze issues reported by users or found in FrameMaker have been fixed:
Saving a book file after generating a PDF results in a crash.
(Ref – 5177)
FrameMaker crashes on editing a file after generating a PDF with All Pinter's Marksoption enabled.
(Ref – 5371)
Saving all files in a book after generating a PDF results in a crash.
(Ref – 5162)
FrameMaker's 64-bit application crashes on importing a .u3d file.
(Ref – 5240)
In some cases, FrameMaker crashes on closing files without saving.
(Ref – 5369)
Subscribe to the newsletter and get access to my free weekly community office hours, as well as my latest content (and some of my all-time favorites) by email.