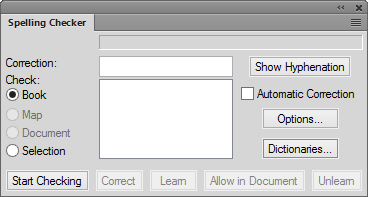 FrameMaker 2017+ Wishlist: Scope of Find/Change and Spell Check
One of my favorite things about the Tech Comm Tools community is the conversations I get to have with members.
Click here to join my free Tech Comm Tools community
 Rushina P. emailed me with this suggestion:
Hi Matt,
 I [have] one small suggestion for future FM releases.
Can we have a feature in FM to use sanity check functions (such as find/replace, spell check and others) across all open documents in FM too and not just document currently being worked on.
I find sometimes I work on documents for different products from the same company and I need to perform the same tasks by opening each document and then making changes.
 Of course, the alternative is put them all in a book file and do the sanity check but this option to select active documents would be cool too 🙂
 Warm Regards,
Rushina
Personally, I think she's identified a great place for new functionality!
A quick glance at these two boxes shows that we don't yet have this functionality in Fm 2017, but that there's room to redesign the pods to fit an "All Open Documents" option.
With any luck, we can get the Adobe engineering team to consider adding this to a future release.
What do you think…would adding an additional scope to these features be helpful?
If so, leave a comment below, and then copy/paste the text to the Adobe Wish List at
http://www.adobe.com/products/wishform.html
The Wish List is a great way to let Adobe know what you'd like in any Adobe product, and it runs mainly on social juice…the more votes a feature (or bug) receives, the more likely it is to receive attention.
Of course, there's also the option of getting this done via a script or FDK (Frame Developers Kit) work, but I am hoping this feature is general enough that we can get it added to the overall product, rather than as an aftermarket tool.
An example of extended functionality like this would be the FrameMaker Super Find ExtendScript. This is a free script from the TCS team, and available on Tech Comm Central, the official Adobe TCS blog. Instructions for download, installation, and use are on the blog.
Subscribe to the newsletter and get access to my free weekly community office hours, as well as my latest content (and some of my all-time favorites) by email.