A new toy, and a content marketing opportunity
(Skip the Intro section to get to the outline of how I crafted a funnel for eBike referral income.)
Intro/Background
On Tuesday (May 19, 2020) I felt like a little kid on Christmas morning. That's because the RadRover5 eBike I ordered on April 9 finally arrived! Given the COVID-19 lockdown, I suppose I should be grateful that it got here as fast as it did.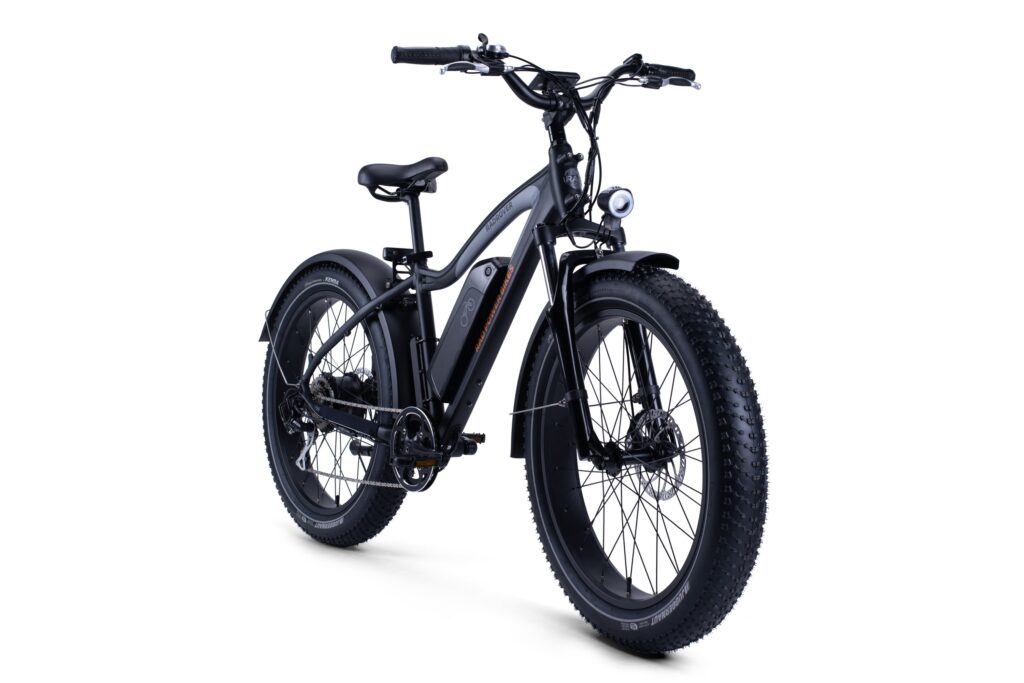 I did, however, have to wait until Wednesday to take it out for a spin; the bike arrived in the afternoon, and unpacking, attaching wheels and handlebars, along with a battery charge meant one more day's wait before I could take it for a spin. But Wednesday morning came, and I made up an excuse to ride to the bank, about two and a half miles from my house. Talk about a blast! The big 4″ tires are cushy, and the hefty pedal assist means you can put in as much (or as little) effort as you like to get moving up to twenty miles per hour.
I already knew that these things attracted a lot of attention, but even on my first ride I was taken aback by how much of a conversation starter they are. When leaving the bank I was stopped by a woman who wanted to purchase one for her 50+ year-old son for his birthday. (Yeah, I'm jealous of that guy, too!) So I spent a few minutes chatting before starting my ride home.
But it's on the ride home (when I was flagged down by a car that drove past me) that I realized that my new purchase was actually a modest business opportunity in addition to being a ton of fun.
The opportunity is in the affiliate program that Rad Power offers its customers. Rad Power gives a $50 discount to newly referred customers, along with a $50 gift card to the referring owner. Like any good affiliate program, both the referred customer and the referrer benefit from the transaction.
The gent that flagged me down grilled me for over 10 minutes on specs, price, and fun factor. As a new owner, I didn't mind chattering on about the bike a bit, but that's when I recognized that I'd need some form of content to benefit from the time I should clearly expect to spend talking about my RadRover5.
A sequence of steps for setting up a referral engine
Here are the steps I went through, and more or less the order that I'd recommend if you'd like to set up your own product referral system.
Purchase product, confirm that you can stand behind it and the company
Sign up for a referral account (or, if a low-cost item available on Amazon, sign up for the Amazon Associates program)
Work out a schedule for promoting the product. For me, this is basically using the bike.
Develop a stupid-simple way to allow contacts to opt into the program
Keep an eye on the flow of contacts to see what would help more folks see the merit of your product, which improves your conversion.
That's about all there is to it. The key is mostly in choosing to promote things you really love, and finding ways to genuinely engage with folks that are interested in what you're showing them.
In my case, the bike does all the hard work, and I chose the orange racks in part because they don't blend in with everything else.
Rethinking push marketing
For the past few years I've been fortunate in being able to send out email to my list of interested subscribers. That means I've already collected those folks into a group and can speak to them all at once via the list or my blog.
I can't really do that while out on my bike, and asking people to pass or receive info from me on the street isn't something I would have wanted to do, even before the lockdown. But then I started thinking about how to engage. Since I'll be outdoors, effectively everyone I talk to will be carrying a smartphone with a camera.
So here's what I did:
I shortened my horrible aff link from Rad Power,
https://www.talkable.com/x/GtTwXu to something that I could actually pass to someone. Using my rebrand.ly account, I shortened the link to https://techcomm.tools/rad.
I created a QR code for https://techcomm.tools/rad.

Side benefit: Fewer characters means a simpler QR code
Specifically, the shorter code was 324 blocks instead of 484 with the talkable.com link
Fewer blocks mean better scan recognition

(See below) For times I'm away from the bike, I created and sent to my phone an iPhone-sized ad in Illustrator with:

the offer (Save $50)
the QR code
the URL, techcomm.tools/rad
a photo of the bike with the orange rack

(See below) For while I'm out riding, I worked up a standard shipping label version that I can place on both sides of the battery and on my helmet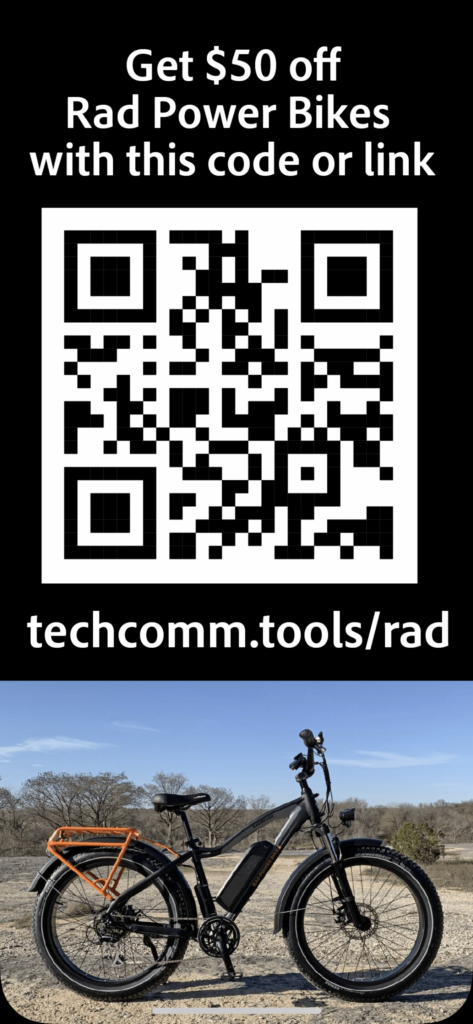 I haven't had a chance to get out on the bike again yet, but I'll be sure to update this post with an evaluation of my mini plan.
What about you?
What wins have you had in creating mini income streams from the peripheral things you do in your job or personal life?
What sorts of things have you always thought you should be compensated for recommending?
Finally, what do you think of my plan? Would you predict I make any sales from my little project? More importantly, what could I do to improve on my plan?!
Subscribe to the newsletter and get access to my free weekly community office hours, as well as my latest content (and some of my all-time favorites) by email.