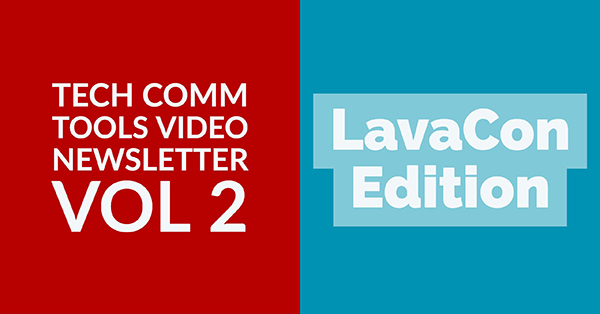 Hi all, I hope your week was as fun as mine!
I got to pop into the LavaCon conference in Portland on Monday to catch up with some of my favorite tech comm folks. (and actually met quite a few of you face-to-face while I was there)
Here's my latest video newsletter, and show notes below to let you know what's inside. Oh, and sorry for the typo at about 2:30!
How do you like the format? Easy to follow both the notes and the "chalkboard"?
Click below to play the video
Show notes
0:00 Welcome
0:07 The format of the day is: Green Screen (Chroma Key) with chalkboard background
0:18 These notes will help you follow the subjects in the video
0:23 Show notes will include timecodes to make video navigation easier
0:39 A big thanks to the Adobe TCS team for supporting the Tech Comm Tools newsletter!!!!
0:55 Observations from this week'sLavaCon conference in Portland
1:13 Look for general S1000D and FrameMaker S1000D courses in Q2 2018
1:27 S1000D is an aviation and defense standard for structured documentation
1:43 If you're looking to implement S1000D in 2018, please let me know!
2:04 Localization(translation) vendors have large marketing budgets! (and great giveaways!)
2:29 Duh, I need to tell more localization companies about my FrameMaker and RoboHelp services!
2:48 If you are doing localization (translation) please let me know
3:07 Thanks again to Adobe for sponsoring my book signing at LavaCon
3:41 A last-minute FrameMaker – Working with Content course starts on Nov 14
4:09 Nov 14 is the meet & greet, but registrations accepted through Nov 17th
4:44 Thanks for being here! How am I doing, what would make this more valuable to you?!